Schizotypal Personality Disorder
Schizotypal Personality Disorder Definition
Schizotypal personality disorder is a mental disorder which interferes to ascertain and retain close relationships. The affected individual's behaviour is considered odd or mismatched with general behaviours which do not excepted in society. The patients always have some suspicious mentality which hinders mingling with others.
Image 1: Schizotypal personality disorder
Schizotypal personality disorder often related to coping incapacity, improper behaviour to social indications and holds atypical attitude. The predominance of schizotypal personality disorder is most common with teenagers or young adult. Mostly with increasing of age maximum odd behaviour is improve with maturity, but medications and counselling often required normalizing the behaviours.
For development of this behavioural disorder, genetic factors and abnormal brain functioning is mainly responsible. But sometimes building up improper approach towards life or society can creates impaired personality which leads to mental illness.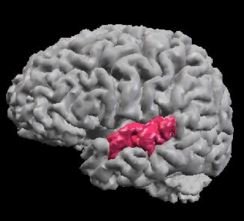 Image 2: Affected part of the brain in the schizotypal personality disorder
It is very necessary to provide accurate knowledge and interpretation which are related to social cues and respond appropriately from very beginning of the childhood. Unnecessary fake or unnatural story telling about natural events should not be encouraged in childhood as this may encourage developing a negative or suspicious approach towards life.
Symptoms
Schizotypal personality disorder often related to cognitive impairment which leads to underperformance of the activities. Individuals often faced social teasing and bullying due to their abnormal behavioural approach which interfere to mingle with others.
People with schizotypal personality disorder have weird views which create odd behaviour and interfere to establish close relationships with others. The typical sign and symptoms in schizotypal personality disorder are as follows:
Feeling of loneliness due to not having any close friends
Creating an inappropriate personal view towards any event happened in the society
Always suspicious behaviour
Hallucinating thought process
Development of extreme social anxiety causes restlessness
Creating own story depending upon their belief against some events and repetitively mention it during the conversion.
Most of the conversation based on vague ideas and style of conversation is unconventional
Dressing style is abnormal
Belief in paranoid ideas, telepathy.
Emotional response is incorrect due to delay understanding of the situation.
Diagnosis (Test)
To diagnose the schizotypal personality disorder thorough psychological diagnosis is required which cannot be performed by general physicians. For diagnosis the disorder, mental health professional means psychologist or psychiatrist consultation is required. For diagnosis, thorough knowledge of medical history of the patient and physical examination help to judge the duration and severity of the disorder.
In most of the time mental health professional interviewing the patient to get the knowledge about mental status of the patient.
According to Diagnostic and Statistical Manual of Mental Disorders (DSM) published by the American Psychiatric Association, following questionnaire helps in interviewing the patient. At least five criteria should be matched for schizotypal personality disorder, following are the criteria:
Erroneous explanations of events, such as a reaction after an event which is factually safe or harmless
Peculiar thinking or paranormal judgment that's contradictory with social norms
Strange observations, including delusions
Abnormal thoughts and communication patterns
Apprehensive or suspicious belief
Unexciting sensation, appearing unfriendly and lonely
Weird, peculiar or odd activities or behaviour
Absence of intimate friend circle
Unnecessary societal anxiety that doesn't reduce with awareness
In most of the schizotypal personality disorder following lacking behavioural approach is found:
Odd and unusual behaviour
Paranoid beliefs which is not matched with factual illusion
Abnormal perception which leads to dissociative, derealisation, uncontrollable anxious thought process against a normal event
Evasion  from intimacy
Deficient emotional expression
Social withdrawal
Suspicious
Treatment
Schizotypal personality disorder treatment includes pharmacological therapy and different types of psychotherapy.
Pharmacological therapy
The FDA govt yet not approved any drugs for treatment of schizotypal personality disorder. Mental health professionals mainly prescribing the drugs to minimise the symptomatic approach which include
Antipsychotic medications,
Antidepressant medications.
These medications help to control distorted thinking. Clinical trials showed that low dose of risperidone is able to reduce the severity of schizotypal personality disorder is compared with placebo.
Psychotherapy
A combination of psychotherapy often reported good outcome for schizotypal personality disorder. Combination of talk therapy, behaviour therapy and cognitive therapy helps to overcome the schizotypal personality disorder, as these therapies help to build trust of others and encourage to establishing social relationships.
Social skills development, such as normal behaviour, normal beliefs, normal perception, intimacy, sociability, emotional expression and trust are helped to normalize the patient. By improving cognitive skill person able to identify the factual events and shifting from distorted thoughts.
The treatment becomes more effective by the active participation of family members. Group counselling helps to minimize fighting and suspicious outlook.
Prognosis
Schizotypal personality disorder is a chronic disorder, but the frequency of incidence is not high it varies from 0.6%-4.6% in a wide-range. The incidence rate is higher in males than females. The treatment outcome varies from individual to individual depending upon the severity of the symptoms and duration of the disease.
References
http://www.webmd.com/mental-health/schizotypal-personality-disorder
Schizotypal Personality Disorder Symptoms, Diagnosis, Treatment at http://psychcentral.com/disorders/schizotypal-personality-disorder-symptoms/
https://www.nlm.nih.gov/medlineplus/ency/article/001525.htm
Schizotypal Personality Disorder Diagnostic Features, Complications, Comorbidity, Effective Therapies, Ineffective therapies at http://www.mentalhealth.com/home/dx/schizotypalpersonality.html
Schizotypal Personality Disorder tests, Diagnosis, Prevention at http://www.medicinenet.com/schizotypal_personality_disorder/article.htm